The CS-400E Through Hole Component Cut & Clinch Insertion Machine
In 1983, Contact Systems delivered the first CS-400 Cut & Clinch Through-Hole Insertion Component Locator. Since then, thousands of CS-400 inserters have been installed in production lines throughout the world and are relied upon daily.
CS-400E is a semi-automatic insertion machine for radial, axial, and multi-leaded through-hole electronic components for PCB assembly.
The CS-400E insertion machine has proven to be an extremely durable and reliable machine.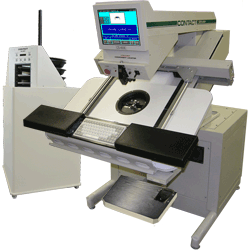 Models
Four CS-400E models with the various X- and Y-dimentions are available:
CS-400E
CS-400EJY
CS-400EJX
CS-400EXY
Versatec offers the new and remanufactured CS-400E Component Inserters, accessories, multiple component delivery solutions, training, spare part and customer support.

The CS-400E Cut & Clinch Inserter Features
inward and outward clinching
miniature cutter footprint
quick and easy setup
rugged construction
extremely reliable operation
ergonomic design
Cut & Clinch mechanism allows the user to program the ideal lead length and clinch angle for each and every component.
The CS-400E Benefits
improved solderability
no component spillage or pop-up during wave soldering
simple lead forming
easier insertion
no post-solder lead trimming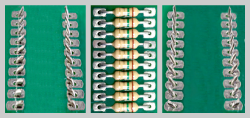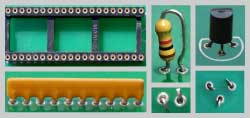 See examples of the results after CS-400E insertion component locator.
Component Delivery
Rotary Bin CS-201
Lighted Dip Dispenser CS-241
Lighted Parts Dispenser 400LPD
JIT BIN CS-740BD Dual Picker Systems
CS-400EV Component Verifier