Software Features
NPI TOOLS
Before the first board is run you can use several features to assure the first board will be built correctly.
Feeder Setup Verificator
| | |
| --- | --- |
| Step through all of the feeders to verify that a reel has not been mislabeled or a feeder incorrectly programmed. To assist, a component outline overlay is displayed at each pick up location. | |
Placement Verification - Digitize Mode
| | |
| --- | --- |
| | Step through the placement program to verify component type, orientation, and placement coordinate. Make changes and save to program without leaving Digitize Mode. |
Dynamic Run Time Optimizer
The DRTO eliminates unnecessary machine stoppages by re-optimizing the placement program "on the fly'. A feeder can be removed while the machine is running. The machine knows the feeder has been removed and dynamically changes the remainder of the program. When you replace the feeder the machine re-optimizes the remainder of the program again.
CONVENIENCE FEATURES
Quick Navigation
| | |
| --- | --- |
| | Select a part number in any screen and click on the Information button and all of the information about that part number is immediately viewable in a pop up window. From that window click on any property field and go directly to that properties edit page. |
Part Priority
| | |
| --- | --- |
| Control the order of placements when necessary right down to the circuit reference level (i.e.R12 must be placed before U6). Select an entire group of components to be placed last (i.e. tall capacitors). | |
Job Analyzer
| | |
| --- | --- |
| | With a job loaded, check to see if you have sufficient inventory to complete the job. If not the Job Analyzer reports how many completeboards can be built and which parts will be short. |
Basic MIS
See how your machine is performing "at a glance", monitor machine and operator efficiency and see job completion estimated time.
Remote Diagnostics
| | |
| --- | --- |
| With an Internet connection our engineers can "take control" of your machine and diagnose problems that would have otherwise required a costly visit from a field service technician. | |
Software Options
PSM Programming Software Module
ISM Inventory Software Module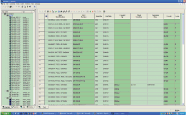 * Although the Programming and Inventory software is included on the machine, additional seats (floating licenses) can be purchased separately to enable offline programming and real time inventory management.
MISSM Extended MIS Software Module
| | |
| --- | --- |
| MIS data is generated every time a board is unloaded or a job is finished or deleted. The data is output to a file. Included with the machine is the Basic MIS view window which graphically displays the machine efficiency and performance as well as the job status. | |
| The Extended MIS Software Module enables access the all of the data in the file and provides the tools necessary to produce customizable analytical reports. | |
TSM Traceability Software Module
| | |
| --- | --- |
| Provides the capability of full traceability for PCB builds including the tracking of individual reel ID's and component lots to circuit references on individual assemblies. | |
Kitting Options
To facilitate faster error free feeder setup, two kitting options are available:
EZ Kit


EZ Kit enables kitting without tying up the C5. Package includes the offline feeder programming software and networked feeder station. Includes a complete network ready PC (with monitor, mouse and keyboard) pre-loaded and configured with Windows 2000™ or XP™, all purchased software/hardware, and a network hub to connect to the C5.
EZ Scan
Includes everything in the EZ Kit option plus the barcode scanner and printer.